Bishop James Long Bio
google.com, pub-0240078091788753, DIRECT, f08c47fec0942fa0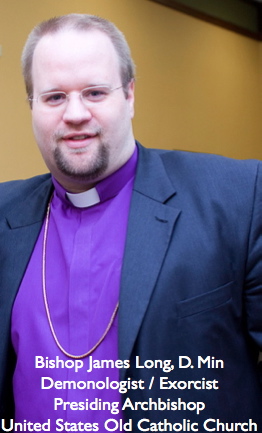 Bishop James Long Biography
Bishop James Long studied for the Roman Catholic Priesthood for 6 years. It was during his years in the seminary that Bishop Long received solid formation; both Academic and Spiritual. It was also during his years in the seminary that he met and was mentored by a real Exorcist who was not affiliated with the Roman Catholic Church.
Through prayer and discernment, Bishop Long accepted Gods call to become an Independent Catholic Priest. He was ordained a Deacon, Priest and was consecrated a Bishop within the Old Catholic Church.
Since he was 5 years old, Bishop Long knew that he wanted to be a priest. However, he knew that he was also called to study Demonology and at the age of 9, he began to study anything he could on the subject.
The Bishop has performed 23 real Exorcisms and it was his formation that he received while in the seminary that helped him through each one.
Bishop Long has completed a book called, "Through the Eyes of an Exorcist" and he is the founder of The Paranormal Clergy Institute.

Currently, he serves as the Presiding Archbishop for the United States Old Catholic Church and he hosts a radio show on Para-X called, The Sacred Division, which can be heard every Wednesday night from 9pm until 11pm Eastern Standard Time.
google.com, pub-0240078091788753, DIRECT, f08c47fec0942fa0